Creating Art and Poetry Heals Me...

I have what yoga instructors refer to as "monkey brain"....sometimes it seems like an entire troupe of monkeys are swinging around and chattering inside my mind! I get myself into sleepless spins sometimes - worrying and wondering about things. Making art, writing poetry, journaling and dancing give all those monkeys something constructive to do...and that helps me ground and balance. If I've been through a traumatic experience, processing it through one of these art forms helps me heal. I hope that my words and works bring comfort to others who need a little love, too.

I am so grateful for the many guides and teachers I have had over the years, who have encouraged me to tap into the deep universe well of creativity available to all of us. Kristin Davis, Elaine Alghani, Jules Tanzer, Kara Masters, Jo Cobbett and Cathy Salser (and her amazing team at A Window Between Worlds) are a few of the people who have been instrumental in my creative rebirth in the past few years - thank you for inspiring me.

All We Can Hold: Poems of Motherhood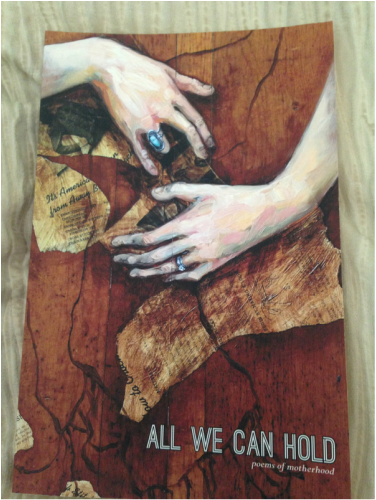 This poem of mine is included in a beautiful new anthology titled
All We Can Hold, Poems of Motherhood
:
BreakageThe climbing rose, pruned too hard
and too late, at dusk and out of season,
recovers slowly. Months pass
before new green emerges on a
few spindly twigs that escaped the blade
after she saw the nest
in the tangle of mottled canes
massed at her feet -
after she dropped to her knees to find
fragments of shell and a streak of wet
on the unwatered lawn.

she wonders still
how to unfall the nest
unshatter the egg.
Edited by Emily Gwinn and Elise Gregory, with a stunningly eloquent introduction by Jennifer K. Sweeney, this beautiful collection offers poems that span the vast range of emotion and experience on the topic of mothering, from tender to tough to tragic. These poems capture the joy, the heartbreak, the mundane and the miraculous. (And I adore the cover art - which was originally painted by Emily Gilbertson on a wooden ironing board). I encourage you to gift yourself or a mother you love with this book,
available at Amazon


or by request at your local bookstore! As one poet commented at the book launch event (April 16, 2016 at the Get Lit Festival in Spokane), poetry is a perfect choice for sleep-deprived new moms who love to read but have limited blocks of time to focus - because one can have a full and complete literary experience reading a poem! If you love the poems in this collection and want more, you will be happy to hear the editors have created a website with additional poems being published online at www.AllWeCanHold.com. The book is sparking a movement!
---
---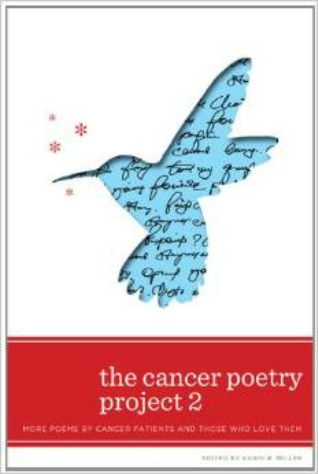 Tonic Waters

She wakes from a nap on the sofa.
It is late afternoon. She wants a cocktail.
I offer other tonics – a cup of tea, soft music, conversation.
She stares out the window at the East River,
a slow barge is making its way west.
"Looks like the water's flowing backwards," I say.
She tells me it is tidal, the ocean pushing back against
the river currents, muddying the water at the juncture.
I offer to rub her back, ease her pain.
She struggles to find a comfortable position
fingers the device at her chest, where once she cradled my husband.

They call it a port, but really it is a canal.
The Suez, the Panama – channels cut by men into the verdant land
to ferry their loads of lumber and steel, coffee and chemicals.
A thousand upon a thousand laborers leveled the boulders,
Dug the trenches, laid the steel. Left their families behind
to seek a living, their hopeful letters home slowing, ceasing.
In an instant, earth can swallow our engineering marvels
Crumble them to dust, surge over us in a great wash
while we stand with our finger in the dam.

I whisper my hands across the relief map that is her spine,
navigating the ridges and deep valleys.
the lotion disappears into her deflated skin like
water from a canteen spilling onto parched earth.
I want her to be a leaf floating on the water.
I want her to be a drop lifted from the sea, vaporous,
before she rains to earth again.

Published in the Cancer Poetry Project 2 (edited by Karin Miller)
and read onstage at the World Cancer Day Concert 2014 in London.

---
| | | |
| --- | --- | --- |
| | I CAN, WE CAN (above photo): I am an advocate for A Window Between Worlds...they do tremendous work to women and children in domestic violence shelters heal through making art. In this campaign, we were asked to say how we can help end domestic violence: My "I Can" pledge: I can use my words to tell their story and to write the right ending. | |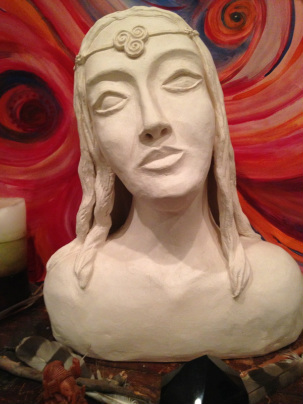 Spin Cycle

I remember the day I removed his training wheels.
I ran behind the bike, steadying him,
before letting go with a final forward push.
he wobbled wildly, until he found his balance
and could steady himself –
he discovered his center of gravity, and mine shifted again…
just yesterday he was inside me, a seed, ripening
heavy-melon lushness arching my spine, widening my pelvis
into the mama waddle of weight and counter-weight.
Another dancer calls me 'spin-crazy.'
I can't get enough of it. Something in me
needs this release, this twirling blur, this dizzy rush, this dance
with my own child self. They've taken the carousels out of the playgrounds,
but a consenting adult can fall at her own risk.
I have never been one for small steady steps.

Where does balance begin?
In the bony labyrinth of the inner ear, the vestibular realm –
just past the hollow snail-shell spiral of the cochlea,
there are triple loops,
canals containing fluid which moves
with us…
each cartwheel, pirouette, tumble
translates fluid pressure
into electric signals
communicating first with our eyes, showing us where we stand
before informing our muscles how to keep us upright.

(I remember the last ear infection, the pressure of his pain
spiraling me into another sleepless night, until the eardrum ruptured
in a rush of pus and blood, and our tears subsided)

Vertigo occurs when tiny crystals in the cochlea lose their way.
Dislodged into the canals, they impede the easy flow of liquid, deceiving us,
making us believe that we are spinning
when in fact we are standing still
or sitting serenely in lotus position
and the only thing turning is the earth herself

This balancing act, this dance of life, requires practice
the years spin away from the center, stars in an infinitely-expanding universe
leaving me longing for the black Velcro wall of the Gravitron to contain me
Back on the dance floor I twist around the perimeter,
a rotating column of air and energy and accumulated debris
(for a vortex to be classified as a tornado, it must be in contact
with both the ground and the cloud base)
pulling seeking gathering releasing
converting rotational energy into forward motion,
until landfall seems imminent. I stop,
plant my bare feet strong against the wood planks
like a seasoned sailor riding the waves of a hurricane,
laughing, I break through the storm wall and it dissipates
into the calm eyes at the center.

–Susan Bernardo, 5.1.2011


---